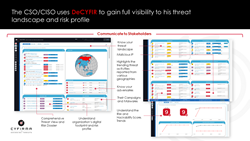 TOKYO (PRWEB)
Aug 11, 2020
CYFIRMA, a threat discovery and cyber intelligence analysis company, today introduced DeCYFIR, an AI-powered, cloud-based cybersecurity platform. DeCYFIR is designed to enable businesses to discover threats in cyberspace's deepest trenches, decode noise signals for useful insights, and apply remedial action against cybercriminals before an actual attack occurs. .
The COVID-19 pandemic has increased the world's digital dependence and, with it, the vulnerability of businesses to cyberattacks. Massive data fraud and theft as well as cyber attacks have been ranked among the top five global risks over the next 10 years in terms of likelihood, according to the 2019 Global Risks Report published by the World Economic Forum.
Kumar Ritesh, Founder and CEO of CYFIRMA said, "The global pandemic, trade wars and geopolitical tensions that have brought great uncertainty to the economy have also become a catalyst triggering a transformation in the way we manage and operate the world. technology. They have accelerated digitization and led to the inevitable increase in the intensity and sophistication of cyber threats. Remote working has created new attack vectors, integrating business applications with third-party systems can create new vulnerabilities, and employees unaccustomed and untrained in cybersecurity practices can increase digital risk. Leaders with an effective defense strategy would know the threats they face. I am excited to present our enhanced threat discovery and cyber intelligence platform, DeCYFIR, to businesses because we know that cyber intelligence is the new currency that will drive growth and enable businesses to thrive in the world. post-pandemic digital economy.
Predictive, Contextual, Complete
With the DeCYFIR platform, companies identify potential threats early in the planning phase of cyber attacks. The platform collects threat indicators seen in the deep / dark web, hacker forums and other closed communities, including our own research, and predicts upcoming attacks based on a set of mathematical models. probability and analytical engines.
DeCYFIR provides quality information to businesses with industry, geography and technology specific information. The platform has the unique abilities to connect the dots between hackers, exploit campaigns, motivations, methods, and attack readiness. All of these elements combined give organizations full contextual visibility into their threat landscape.
DeCYFIR redefines quality cyber intelligence in its unique ability to deliver all three layers of information (strategic, management and tactical). When full information is harnessed, business leaders can make precise decisions and direct scarce cybersecurity resources to mitigate risk based on the severity of the threat.
With DECYFIR, cyber threats and signals are automatically discovered and decoded. This information is provided in real time so that security teams are always one step ahead of their cyber adversaries.
The key modules of DeCYFIR
DeCYFIR consists of several modules, each designed to help companies strengthen their cybersecurity postures and be better equipped to face the risks of digitalization:

Visibility and Threat Intelligence (TVI)
TVI provides comprehensive, multidimensional strategic, management and tactical information and cyber intelligence. This module addresses the WHO, WHY, WHAT, WHEN and HOW of impending cyber threats, and provides recommendations for corrective actions. With TVI, businesses can predict a potential cyber attack and prevent financial and reputational damage.
Cyber ​​situational awareness (CSA)
Real-time cyber insights, trends, cyber news, technologies, regulations and laws, policy changes, emerging cyber attacks, vulnerabilities and exploits – all tailored to ensure relevance to geography, industry and technology. a company. When equipped with comprehensive and relevant risk telemetry, executives can make business and investment decisions with precision.
Cyber ​​incident analysis (CIA)
Enable organizations to comprehensively respond to security incidents with not only tactical information, but also strategic-level information by mapping the associated campaign, attacker affiliation, motive, and mechanism. By taking an intelligence-based approach to dealing with cyber incidents, organizations can prevent similar cyber attacks from occurring.
In addition, the enhanced version of DeCYFIR includes the following key features:

A threat playbook that provides comprehensive contextual and correlated details on threats discovered by DeCYFIR. This allows companies to assign different threat elements, to have a holistic view and to decide on the necessary corrective actions.
A dedicated search engine that allows businesses to search the dark, deep and shallow web, P2P channels, bin sites and other data sources to retrieve information related to cyber events, attacks, incidents, software malware, vulnerabilities, campaigns and specific threats. The powerful search engine also correlates results, deciphers signals, and connects the dots to give security professionals timely visibility into evolving threats and risks at their fingertips.
Complete view of the threat landscape
A single pane of glass that gives business leaders and security teams a bird's eye view of their organization's external threat landscape. The unified view of threats and risks, when assessed holistically, provides a comprehensive perspective of the organization's overall cyber posture.
The Threat View provides cybersecurity teams with insight into digital risks, vulnerabilities, cyber attacks, hacker interest, early warning / out of band, malware, phishing, and Indicators of Compromise (IoC) with a proprietary risk score to assess cyber threats and impending risks.
The Risk View allows business leaders to understand how their companies have evolved relative to others in the industry and to map their external threat landscape against the different verticals of cyberposition management. Analysis of the external risks that impact their companies with data adapted specific to their environment. The information is relevant and timely with the ability to predict impending attacks.
Risk Score and Hack Score
The Risk Score and Hack Score are calculated using proprietary algorithms and mathematical models. With Risk Score, organizations get an overview of their external threat landscape and understand how they stack up against their industry peers. The hacking score serves as an indicator of how hackable businesses are and their level of attractiveness as a potential target.
CYFIRMA, recently listed in the Gartner Market Guide for Security Threat Intelligence Products and Services 2020, works with many large companies including Digital Hearts and other conglomerates in high tech manufacturing, media, financial services, consumer goods, retail. and F&B industries to disentangle cyber risks and threats.
Jun Watahiki, Head of Security Operations Center at Digital Hearts, said, "At Digital Hearts, we operate a state-of-the-art Managed Security Services (MSS) platform for customers across many industries. Customers rely on us to keep their data and assets secure. We have been working with CYFIRMA for a year to integrate their information on threats and their indicators of compromise (IoC) into our platform. The threat intelligence provided by CYFIRMA is markedly different from the variety available in the market – the ability to correlate threat indicators with threat actors is a powerful feature.
"Combined with our managed security offerings, CYFIRMA has helped our customers strengthen their security controls and mitigate the risks associated with malware and other cyber attacks. We chose CYFIRMA's threat intelligence and visibility product because we want our customers to benefit from quality cyber intelligence. The partnership with CYFIRMA allows us to offer our most unique offerings to the Japanese market, "added Watahiki.
As the digital landscape expands and hackers and state-sponsored groups extend their cyber warfare to businesses and homes, tackling cyber threats and risks requires a shift in mindset towards an intelligence-driven predictive approach. The DeCYFIR platform is designed to decode threats and uncover signals hidden in the hyper-connected world.
ABOUT CYFIRMA
Based in Singapore and Tokyo, CYFIRMA is a leading company in the field of threat discovery and cybersecurity platforms. Its cloud-based AI and ML-based cyber intelligence analytics platform helps organizations proactively identify potential threats at the planning stage of cyberattacks, deliver in-depth insights into their cyber landscape, and amplify preparedness. keeping the organization's cybersecurity posture up to date and resilient. , and ready against future attacks.
CYFIRMA works with many Fortune 500 companies. The company has offices and teams located in Singapore, Japan and India.
Official sites:

http://www.cyfirma.com

http://www.cyfirma.jp